ARTICLE
'Tis Soon the Season to be Jolly!
This post originally appeared on our partner Eyeota's blog.
Are you saving up for your holiday shopping? So are advertisers! In some cases, they even dedicate over 50 % of their annual marketing budgets, for their pre-holiday, Q4 campaigns (Nielsen). With the festive season fast approaching, it's a great time to think about the role audience data has in complementing these end-of-year campaigns and seasonal trends.
Take for example advertisers we like to call "Binge Eaters". Binge eaters are advertisers that buy audience data in a strictly seasonal manner. They feast on audience data at strategic times like the lead up to the political elections – in the UK last year, Australia in June, and right now in the US – and it's auf Wiedersehen until the next election comes along.
In contrast, many brands are regulars throughout the year but increase their audience data expenditure as Q4 rolls in. During this festive season, the average quarterly spend by sector increases by 37% with November and December as the busiest months.
Which brands have the most holiday cheer?

Retail and Electronics & Computers brands, for example, have a voracious appetite for audience data during this period, dedicating almost half of their annual spend for an audience data party.
Retailers like supermarkets, department stores and online stores, are the biggest spenders. Supermarket brands in particular are year-round spenders, with seasonal highs around big consumer purchasing events, peaking in Q4.


[Global supermarket brands audience data expenditure trend]

Electronics & Computer brands follow a similar trend, boosting expenditure from the Back-to-School period, throughout Black Friday until the end-of-year sales. Multinational FMCG/CPG brands also join in on the holiday cheer, further increasing spend after a Q3 peak in investment during the back-to-school period.
Which segments made the nice list?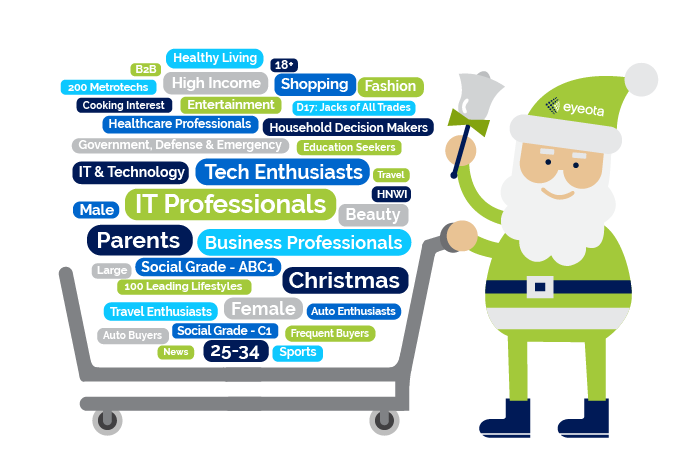 [Global segment category demand (impressions) for November and December]
Unsurprisingly, Christmas-related segments are popular between November and December for all advertiser sectors seeking gift buyers, holiday cooks and holiday shoppers.
Parents, Household Decision Makers, Income-level and Cooking Interest segments are also in high demand, especially by Retail and FMCG/CPG brands.
IT-related and Business Professionals segments are popular this time of the year as Electronics & Computer brands target tech enthusiasts splurging on the latest gadgets. Meanwhile, Beauty & Personal Care brands focus on Fashion and Beauty enthusiasts. 
Have you checked your list twice?
Remember to check off these segments on your list when planning your next campaign for a worry-free Q4, and we wish you a merry holiday season ahead!