August 1, 2014 – US-based digital marketing services firm MediaMath has announced two senior hires in North America – Ross McNab as MD and Jake Engwerda as VP Sales – and the opening of a new office in Sydney, Australia where staff from ad technology company Kinected will join it.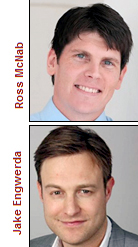 MediaMath's TerminalOne system helps clients make use of their own technology infrastructure and data to plan, optimise and analyse digital marketing programmes. Recent months have seen a flurry of activity from the company, which raised $73.5m in a Series C round of funding in June, and last month moved to a larger office in the 4 World Trade Center building (4 WTC) in Manhattan and opened a new office in Paris, France. In May, it launched a Tokyo office.
Both the North American joiners bring more than ten years' digital media experience. McNab's comes from roles in Sydney, Hong Kong and New York, most recently as co-founder and Chief Revenue Officer of Australian firm Kinected (see below), where he oversaw commercial operations. Prior to this, he oversaw global agency group relationships for MediaMind (Sizmek) out of New York.
Engwerda was most recently head of North American, APAC, and Global Accounts sales for myThings, also helping to establish the company's New York City office and to restructure the sales and operations teams. Before this, he led sales at MediaMind.
Engwerda will report to McNab; McNab will report to Erich Wasserman, MediaMath's Global CRO, who comments: 'At such a pivotal time in MediaMath's global expansion and strategic development, we are thrilled to welcome Jake and Ross to the team. Their wealth of knowledge and deep industry experience will be invaluable our current and future clients in North America.'
Ad technology provider Kinected has worked in partnership with MediaMath for the past two and a half years in Australia, and a number of its staff who have previously worked with MediaMath clients will now join the new MediaMath Sydney team; their remaining colleagues will continue to focus on other projects as a separate entity. Wasserman says of the move: 'We are delighted to further establish MediaMath's presence in the Australian market and are very excited to bring the Kinected team into the MediaMath family. We will help brands and agencies to further capitalise on the wealth of opportunities in Australia, APAC, and beyond. This is a very exciting time for MediaMath and we anticipate more announcements within the region in the near future.'