US-based digital media buying platform MediaMath has acquired Tactads, a firm providing cookie-less and cross-device ad targeting technologies. Terms of the deal were not disclosed.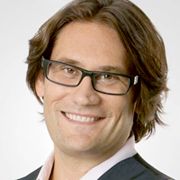 Nantes, France-based Tactads, which was launched last year by Romain Gauthier and Jawad Stouli, has developed proprietary software to target customers across all their connected devices, including smartphones, PCs and tablets. This software does not rely on cookies, or use personally identifiable information about consumers, says the firm.
Tactads' solution will now form one component of MediaMath's proprietary ConnectedID technology, being developed to enable advertisers to engage with their customers across multiple channels and devices.
Joe Zawadzki (pictured), CEO of MediaMath, comments: 'The usage of multiple web-enabled devices has reached a critical mass and so has the challenge of targeting hyper-connected users across screens. Our acquisition of Tactads is just one of the many means we are employing to help our clients overcome this challenge, improve marketing effectiveness, and drive ROI.'
Web sites: www.mediamath.com and www.tactads.com .